Hector's repair company
Full-service heating
& cooling repair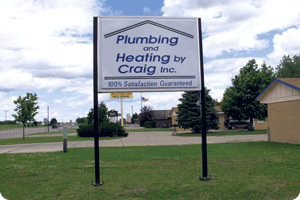 Tried and true
Looking for an experienced plumbing and heating repair company near Hector to clean your air ducts, fix your furnace, or install a new water heater? Plumbing and Heating by Craig is at your service. We've been in business since 1991, and we're looking forward to serving you for years to come. Call us today at (320) 587-7437!
Selecting a system size
When it comes to air conditioning and heating systems, bigger isn't always better. When you hire Plumbing and Heating by Craig, we'll assess the specific needs of your Hector home. The HVAC system that's best for you will take into account the size of your house, the windows, and the level of insulation.
Clearing a clogged drain
Diapers, soap, toothpaste, hard water, coffee grounds . . . Some of these items are harder on your drain than others, but all can cause clogged pipes and sewage backups. If you notice a problem with your sink, bathtub, or toilet, give Plumbing and Heating by Craig a call. It's best to catch the issue early!
Leaky pipe?
Broken pipes in your house result in lost water, and therefore, higher water bills. If you suspect a cracked pipe in your home, don't hesitate to call Plumbing & Heating by Craig. Our plumbing experts will be glad to stop by your home in the Hector area to check on the issue.
Honestly affordable near Hector
Plumbing and Heating by Craig's plumbing and heating technicians adhere to the highest standards of performance and timeliness. We also offer competitive, upfront pricing on all our products and services. From new furnaces to air conditioners to sump pumps, Plumbing and Heating by Craig is happy to help with purchasing, installation, maintenance, and more.